The Illumination Village is all aboutART.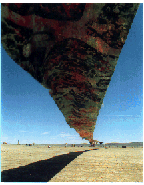 The Illumination Village at Burning Man 99
The Illumination Project #12 at Burningman 99
BurningArt at Burning Manpages 92-98
We are creating many large art installations. We are also encouraging people to create individual interactive camps. This could be a fullblown theme camp or just a game of twister in front of your tent, it is up to you. Our village is based on the idea that each camper isresponsible for there own food, water, shelter and transportation in and out of all there own stuff.
As a group we will create central village shade, a stage, an art gallery and a sense of community and help each other out.. There will bebigger Villages and there will be more highly organized Villages, there are more group oriented Villages and more theme camp orientedVillages. We will be camped on the louder side. Hopefully it will not be to loud.
this is my map not an official map
Black Rock City Illumination Village placement

Charlie A. Gadeken
The Illumination Village Cruz Director
charlie@burningart.com